Product Description
HP LTO-4 Ultrium 1760 SAS External Tape Drive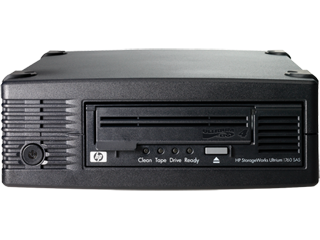 HPE StoreEver LTO Ultrium Tape Drives represent seven-generations of LTO technology capable of storing up to 15 TB per cartridge, with HPE TapeAssure for manageability, hardware data encryption, HPE StoreOpen with LTFS for ease of use at an unprecedented performance. With HPE TapeAssure customers can be confident that their data is safe by monitoring drive and media utilization, operational performance and life/health information for drive and media. Data hardware encryption using AES 256-bit provides easy-to-enable security to protect the most sensitive data and prevent unauthorized access of tape cartridges. Linear Tape File System (LTFS) is an open format for storing data on tape that makes LTO generation 5 and later tapes self-describing and file-based. Capable of data transfer rates up to 300 MB/sec native, HPE's Data Rate Matching further optimizes performance by matching host system speed to keep drives streaming, thus enabling the fastest tape performance.
What's new
The new HPE LTO-7 Ultrium 15000 Tape Drive, capable of storing 15 TB (compressed) per cartridge at up to 300 MB/s transfer rate (native), providing a 6Gb/sec SAS interface.
Features
Outstanding Capacity and Performance, Monitoring Capabilities, Hardware Encryption & StoreOpen/LTFS
HPE StoreEver LTO Ultrium Tape Drives provide up to 15 TB of compressed capacity on a single cartridge.
HPE StoreOpen and Linear Tape File System (LTFS) allows customers to store data in an open format making the tape self-describing and file-based.
HPE TapeAssure offers customers the ability to make the best use of their investment and be confident that their data is safe by monitoring drive and media utilization, operational performance and life/health information for drive and media, allowing the switch from reactive to proactive management.
Enables even the tightest backup window to be met with unprecedented performance.
Provides highest level of security with compression for strong backup data privacy to secure confidential information and address compliance quickly and with fewer cartridges.
Reliable, Well Connected and Compatible
Allows the tape drive to continuously adjust the speed of the drive to keep drives streaming to maximize performance and reduce start/stops which significantly increase reliability of HPE drives and media.
SAS models qualified on HPE and non-HPE servers; including popular platforms from vendors such as Dell, IBM, and Sun. Visit us on the web for the latest information on HP Enterprise Backup Solutions.
Extensive list of supported backup and archiving software applications from HP, CA, VERITAS, Legato, Tivoli, and many more.
Design leveraged from previous HP LTO tape drives to deliver confident backups at high duty cycles.
Complete Solution Straight out of the Box
Provides HPE LTO media, cleaning cartridge(with full height drives), a free copy of the option to download Yosemite Server Backup Basic software which includes support for hardware data encryption, cables and documentation.
For IT organizations with stringent, long-term data retention requirements, WORM data protection capability offers a simple and secure method for archiving records allowing customers to affordably meet the toughest industry compliance regulations
Technical Specifications
Recording technology
Capacity
Buffer size
Host interface
Transfer rate
WORM capability
BladeSystem supported
Yes, please reference the QuickSpecs for details
Encryption capability
Form factor
Minimum dimensions (W x D x H)
11.73 x 3.11 x 8.86 in
Weight
17.64 lb
Differentiator
External half-height LTO-4 SAS tape drive, 160 MB/s compressed data transfer rate RoHS2 Compliant
Warranty - year(s) (parts/labor/onsite)
Product Guidelines
The specifications and any information displayed on this page might not be applicable to this specific product and model. These specificationas apply to the entire product range,and are displayed as a guideline as to what is compatible with this product range.
Delivery Information
| | |
| --- | --- |
| Delivery TimeFrame: | Allow about 1-2 business days for delivery in Gauteng Area. Delivery to all other Major Areas, please allow 2-3 days for delivery. For delivery to Outlying Areas, Karoo, etc, allow 3-5 business days for delivery. |
| Orders over R2500 in GP Major Area and weighing less than 7KGs.: | Will be Dispatched via Economy Delivery service at no additional charge. See more delivery options available at checkout or ask us |
| Returns Policy: | You may return new, unworn or unused products within seven (7) days of delivery for a full refund of the cost of the goods, or an exchange if preferred. Read More |
Use the "Add to Basket" button (on the product page / at bottom of each product) once you are happy with the item(s).

Once the item(s) is in your basket: Click on the "Checkout" link in the upper right corner. You will be redirected to Login/Register page. Please fill in all your necessary contact and delivery details.

Select your payment method, and if "Credit Card" is selected you will now be forwarded to a secure payment gateway VCS where you may safely and securely submit your card details. Alternatively if you elect to pay via other methods such as Bank Transfer, simply follow the instructions. For more on payment methods click Here.

Once your details have been submitted, you will return to the website.

We will receive your order and process for swift delivery. Orders are processed each day before 1pm. All orders after 1 pm will be processed the next working day.

You will receive a confirmation email of the order.

When we have received your payment your order will be dispatched via courier. Depending on your delivery choice. For more on delivery options click Here.

You will receive tracking number or communication from us regarding your order.

Our trusted couriers will bring your order to your chosen delivery address and you will need to sign for it

Enjoy your new technology item(s)!